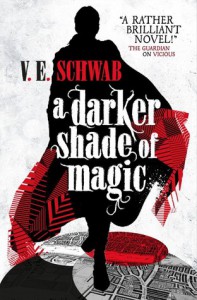 When I first heard about this book I wasn't that interested. While the magic aspects of the story sounded interesting enough, the parallel universe and the historical aspects were a bit daunting. But then I needed a parallel universe book for my Bookish Bingo challenge and this one came to mind immediately.
So I bought a paperback and figured I'd give a shot. Turned to to be one of the best books I've read this year. I just loved it. Initially it was a little difficult to get to grips with the four different Londons - Red London, Grey London, White London and the mysterious Black London. The book was just so beautifully written the complexities were easy to understand. The descriptions of each different place were just breathtaking. So vivid, so provocative and easy to picture. The magic and the world building was incredible, unique and utterly amazing.
The characters are wonderful. Kell, the letter carrier, who can move between the different Londons, with his own special brand of magic, and more than a few secrets of his own. And Lilah. Lilah Bard is one of my top favorite female characters ever. I just loved her to pieces from her first appearance. She's completely kick ass in a mostly male dominated world, and can totally hold her own. A sharp tongue, but also, I did find her quite witty as well. And in rare moments, she is not completely heartless. She cares, even though she might not want to admit out loud. I just loved how Lilah and Kell's different plot lines wound up together and how the novel progressed to the two of them working together. The dialogue is delicious.
The villains of the novel are down right creepy. There were certain parts that were very brutal and violent, which is not to be unexpected in a fantasy landscape. While there were some stomach clenching moments, it was still utterly gripping story telling. And surprisingly enough there was no romance. Which, while surprising, was also quite refreshing to see a wonderful fantasy historical without an all consuming romance taking over the plot.
All in all this book was brilliant and I loved it. Can.Not.Wait. for the next one.
Square crossed off for 2015 Spring Bookish Bingo - Parallel Universe.